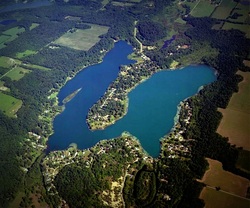 Shavehead Lake is located in Porter township, Cass County, Michigan. Just north of Elkhart, Indiana, the RV Capital of the world, and close to South Bend, the home of the Notre Dame Fighting Irish. Our horseshoe shaped lake is 289 acres in size.
---
Shavehead Lake History
CHIEF SHAVEHEAD
A well-known Pottawatomie chief, so named by the whites because, like many of his ancestors, he kept the hair shaved from the greater part of his scalp. The dates of his birth and death are not known, but lie lived during the early part of the 19th century in the southeast part of Cass County, Mich. As a warrior Shavehead was the terror of the vicinity, feared by both whites and Indians. He participated in many battles and manifested a determined hatred for the whites, openly boasting of the scalps he had taken, and wearing them as trophies about his person. It was reported, although probably with great exaggeration, that he possessed a string of 99 white men's tongues.

Many incidents of Shavehead's vindictiveness are related. After the mail stages had begun to run on the Chicago road, Shavehead, claiming the rights of his people as proprietors of the soil, established himself at a ferry of St Joseph River, near Mottville, and demanded tribute from every one who crossed, especially the settlers who were compelled to use this route to the nearest grist mill.

Finally, exasperated beyond endurance, one of the settlers caught the Indian unaware and administered a severe beating, which had the effect of curing his depredations, but making him more sullen. He is described in his old age as being tall and erect, quite dark, and with not a hair on his head. Both a lake and a prairie bear his name.

Several stories are told of the manner of Shavehead's death, but they can not be substantiated. One is that the old chief, while boasting of his part in the massacre at Ft Dearborn, Chicago, in 1812, was recognized by a surviving soldier, who followed him out of the village, and, it is supposed, murdered him. Another account states that after significantly saying that there was no longer game enough for both the Indian and the white man, he was killed by a white hunter who had been his companion on many hunting expeditions. The last and more probable story is that be died, enfeebled by age and poverty, and was buried in a hollow log in the forest.

Settlers visited his grave and severed his head from his body, and his skull was said in 1889 to be in the collection of the pioneers of Van Buren County. One of Shavehead's sons died in prison under a life sentence for murder. See Coll. Mich. Pion. and Hist. Soc., v, 1884; XIV, 1890; XXVIII, 1900.